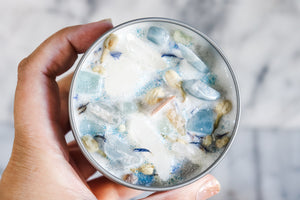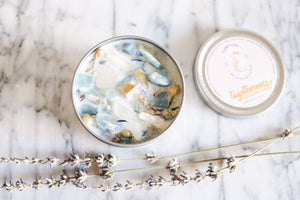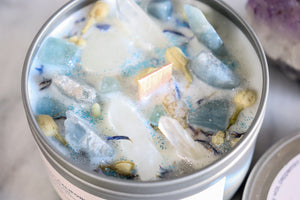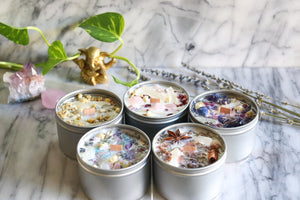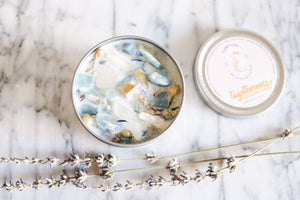 Togetherness Meditation Candle
Use this gorgeous candle containing essential oils and gemstones to cleanse your energy and environment. Light one while meditating or simply in the background because it's pretty! We like pretty things here at Caretuals. Extend a little self love towards yourself and discover your self care rituals. 

Thoughtfully curated ingredients form this Togetherness Candle. Peppermint & Fir essential oils promote focus & relaxation in the body. Aquamarine is known to be calming, soothing and cleansing while Celestite is all about elevating your spirit and inner peace. Clear quartz is the master healer and promotes balance. 
Jasmine, cornflower, frankincense are some of the herbs inside this calendar that add to the properties of balance, calm and relaxation for your holiday togetherness. 

Warnings: Do not use longer 2-4 hours at a time. Always place on a heat safe surface and away from flammable items. 

Recommendations: The longer you keep the candle lit the quartz and herbs will sink to the bottom faster. Don't worry if that happens, they are still in there giving you the benefits. After the wick is gone, the gemstones can rinse out from the soy wax easily with warm water so you can save the stones. Herbs and resins should be discarded along with remaining soy wax. 
To avoid tunneling, allow the wax to burn evenly till the edges of the tin. 
ingredients: soy wax, peppermint + fir essential oils, aquamarine, Celestine, clear quartz, jasmine, cornflower, frankincense