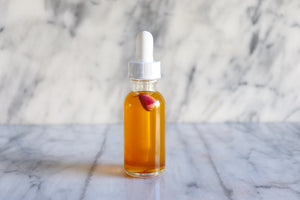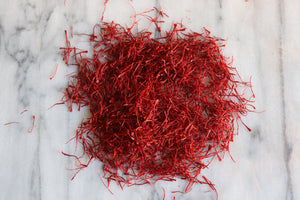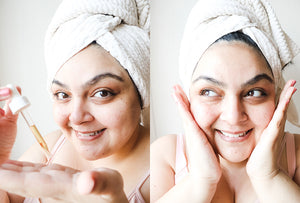 Caretuals Saffron Face Oil
Handcrafted with love using 20+ Ayurvedic herbs. Inspired by the Ayurvedic kumkumadi tailam, Caretuals Saffron Face Oil is prepared over time by concocting herbs, straining and then finally bottled with saffron, camellia oil and rose hip oil. Saffron Face Oil is nourishing to your delicate facial skin. You only need a few drops a day on your way to glowing beautiful skin. 

How to use:
01. Start with a clean face. For best results wash face with caretuals saffron soap.
02. Spray clean face with rose water and gently tap into face leaving some moisture behind.
03. Take 3-5 drops of saffron oil directly on your face.
04. Spread the saffron oil over the face and gently tap into skin covering all areas of the face and neck.
05. Smile and enjoy the healthy saffron glow.


Handcrafted in California
100% natural
external use only

ingredients: Sesamum Indicum (Sesame) Seed Oil*, Prunus Amygdalus Dulcis (Sweet Almond) Oil*, Rosa Moschata (Rose Hip) Seed Oil*, Camellia Oleifera (Camellia) Seed Oil*, Rubia Cordifolia (Manjistha)*, Pterocarpus Santalinus (Red Sandalwood), Glycyrrhiza Glabra (Licorice) Root*, Prunus cerasoides(Padmaka), Ficus Bengalensis (Indian Banyan Bark)*, Nelumbo Nucifera (Lotus), Nelumbo Nucifera (Lotus Stamen), Berberis Aristata (Daruhaldi)*, Chrysopogon Zizanioides (Vetiver), Dashamool* [Aegle marmelos (Bilva)*, Premna integrifolia (Agnimantha)*, Oroxylum indicum (Shyonaka)*, Stereospermum suaveolens (Patala)*, Gmelina arborea (Kashmari)*, Solanum indicum (Bruhati)*, olanum xanthocarpum (Kantakari)*, Desmodium gangeticum (Shalaparni)*, Uraria picta (Prushniparni)*, Tribulus terrestris (Gokshura)*], Goat Milk, Rosa Centifolia (Rose Petal), Aloe Barbadensis (Aloe Vera)*, Citrus Sinensis (Orange Peel), Santalum Album (Sandalwood), Crocus sativus L. (Saffron), Lavendula (Lavender) essential oil
*organic