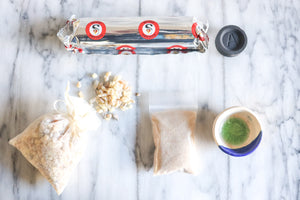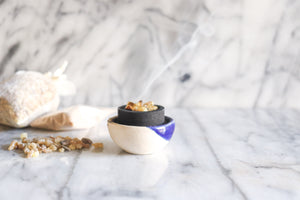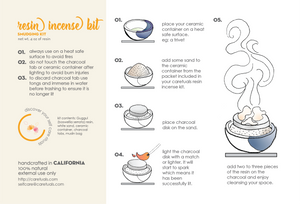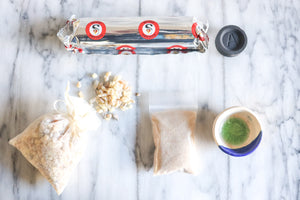 Resin Incense Smudging Kit
Cleanse your space by smudging Indian Frankincense called Guggul. This kit will start you off for any resin incense burning. The small ceramic container is the perfect size for holding the charcoal tab. The sand protects the ceramic container and your surroundings by absorbing some of the heat from the charcoal. The ceramic container may still get hot so as per care instructions please do not handle after lighting. The tree resin becomes a beautiful sap as the charcoal burns and gives off a lovely smelling smoke that cleanses your space.

How to use: 
Refer to diagram in product images and insert when purchased.

Care instructions:
01. Always use on a heat safe surface to avoid fires.
02. Do not touch the charcoal tab or the ceramic container after lighting to avoid burn injuries.
03. To discard charcoal tab use tongs and immerse in water before trashing to ensure it is no longer lit. 
Assembled in California
100% natural

Kit contents: Guggul (boswellia serrata) resin, white sand, ceramic container, charcoal tabs, muslin bag