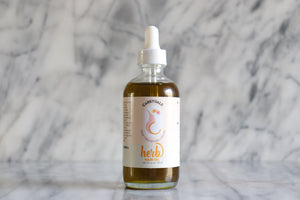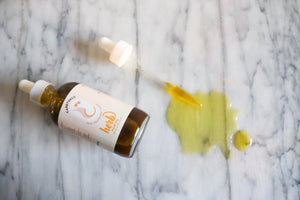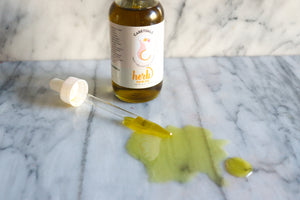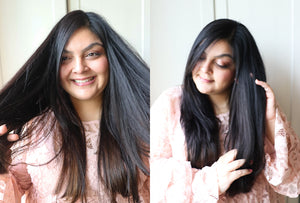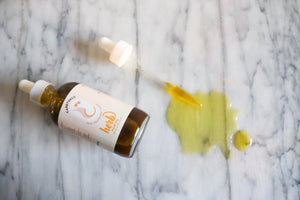 Herb Hair Oil
Handcrafted with love using 20+ Ayurvedic herbs. This hair oil contains medicinal benefits of all the herbs concocted into the oil. The hair oil is meticulously soaked with all the herbs for 3 weeks, strained and made ready for you to support your hair health. Use sparingly for leave in conditioning. When you use as a treatment use generously and allow your scalp and hair to drink up all this gorgeous goodness. 

How to use:
01. To use as a treatment, drench and massage scalp along with length of hair. Leave in at least 2 hours to overnight before washing hair.
02. to use as a leave in conditioner take a few drops in your palm and run through length of hair or ends. 
Handcrafted in California
100% natural
external use only
net. wt. 4 oz

ingredients: Sesamum Indicum (Sesame) Seed Oil*, Oryza Sativa (Rice) Bran Oil, Olea europaea (Olive) oil, Ricinus Communis (Castor) Seed Oil*, Simmondsia Chinensis (Jojoba) Seed Oil*, Eclipta Alba (Bhringraj)*, Ginkgo biloba (Maidenhair), Nigella Sativa (Kalonji)*, Curry leaves, Rosa Centifolia (Rose Petal)*, Aloe Barbadensis (Aloe Vera)*, Azadirachta Indica (Neem)*, Triphala* [Emblica Officinalis (Amla)*, Terminalia Chebula (Haritaki)*, Terminalia Belerica (Bibhakti)*], Oscimum Sanctum (Tulsi)*, Moringa Oleifera (Moringa)*, Lavandula (Lavender)*, Phyll- anthus Emblic (Amla)*, Bacopa monnieri (Brahmi)*, Trigonella foenum-graecum (Fenugreek)*, Apium graveolens (Celery) seeds
*organic