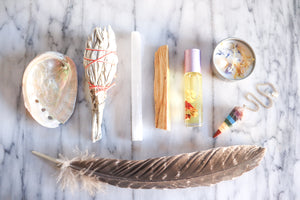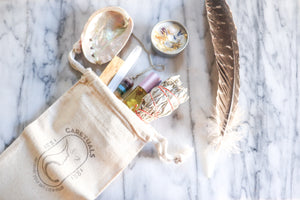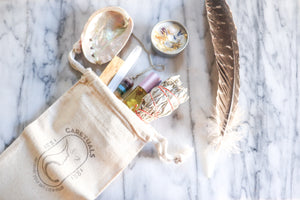 Meditation Kit
Use this kit of tools to create and prepare yourself for meditation. A comprehensive kit that allows you to cleanse your space, calm and ground yourself to create a beautiful experience.

How to use: 
01. Sage - Light with a flame and allow to burn for a few seconds before blowing it out like you would with incense
02. Abalone Shell - Place lit sage in the abalone shell to avoid any ashes or sparks to fall on flammable surfaces
03. Smudging feather - Use the feather to direct the smoke from the sage in desired direction
04. Palo Santo - Light with flame and allow to burn for a few seconds before blowing out and place on the abalone shell to use like incense
05. Tea light - Place on heat safe surface and light candle before meditation
06. Essential Oil Roller Bottle - Inhale and use on the back of your neck, bottom of your feet and chest before meditation to enjoy relaxation
07. Selenite & Chakra Balancing pendulum - Use them to cleanse your space or hold while meditating to allow the properties of the gemstones to assist with the meditation. Pendulum can also be used as a guide for gaining clarity in life. 

Care instructions:
01. Always use the sage, palo santo and candle on a heat safe surface to avoid fires.
02. Keep essential oils away from flame. 
Handcrafted & Assembled in California
100% natural
external use only

Kit contents: abalone shell, sage stick, selenite stick, palo santo, essential oil roller bottle, tea light candle with gemstones and herbs, chakra balancing gemstone pendulum, smudge feather, muslin bag

Roller bottle ingredients : Essential oils (Frankincense, Myrrh, Vetiver, Cedarwood, Bergamot, Wild Orange, Lavender, Geranium, Ylang Ylang, Patchouli, Copaiba) and Herbs (Helichrysum, Chamomile, Rose)