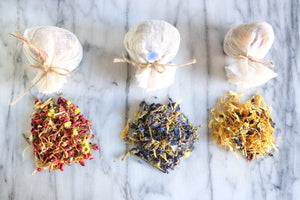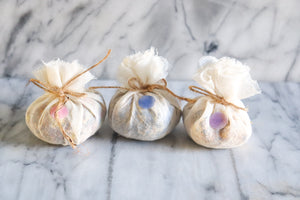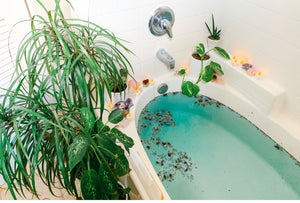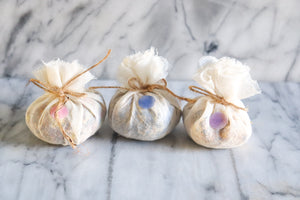 Bath Tea
Steep this bath tea in your bath tub of warm to hot water to enjoy the herbal benefits for your system. Your body will soak up all the goodness of essential oils and healing properties of the herbs. Plus a beautiful looking bath doesn't hurt anyone! 
Keep it in the sachet to avoid clean up or untie this little miracle for the visual effect.
You will receive 3 bath tea sachets; purple, blue and red. They are indicated by a small sticker of the same color. 
How to use:
01. Draw warm* water in the bath tub
*(best results if water is on the hotter side. Allow it to cool down to comfortable temperature before stepping in of course ). 
02. Add bath tea sachet to bath and steep for atleast 10 minutes till desired color is achieved.
03. Soak, Relax and enjoy your self care. 

Handcrafted in California
100% natural
external use only
net wt 10 oz
purple bath tea ingredients: calendula, hibiscus, butterfly pea flower, orange essential oil
blue bath tea ingredients: cornflower, lavender buds, butterfly pea flower, calendula, lavender essential oil 
red bath tea ingredients: rose petal, hibiscus, helichrysum, lemongrass, lemongrass essential oil